Greenroom Robotics is excited to announce our attendance at the 2023 Indo Pacific International Maritime Exposition. As one of the leading international showcases of maritime & naval technology, we can't wait to showcase our innovations alongside other industry leaders at the International Convention Centre in Sydney on November 7th – 9th. With a rich history spanning over 20 years, this industry event sees upwards of 25,000 visitors and over 40 nations represented across the three days.
The event aims to connect defence, industry, government, and academia, serving as a hub of the greatest minds and organisations in the Indo Pacific maritime space. Greenroom will be attending as a co-exhibitor with industry partners, Defence West, alongside a select handful of other Western Australian companies.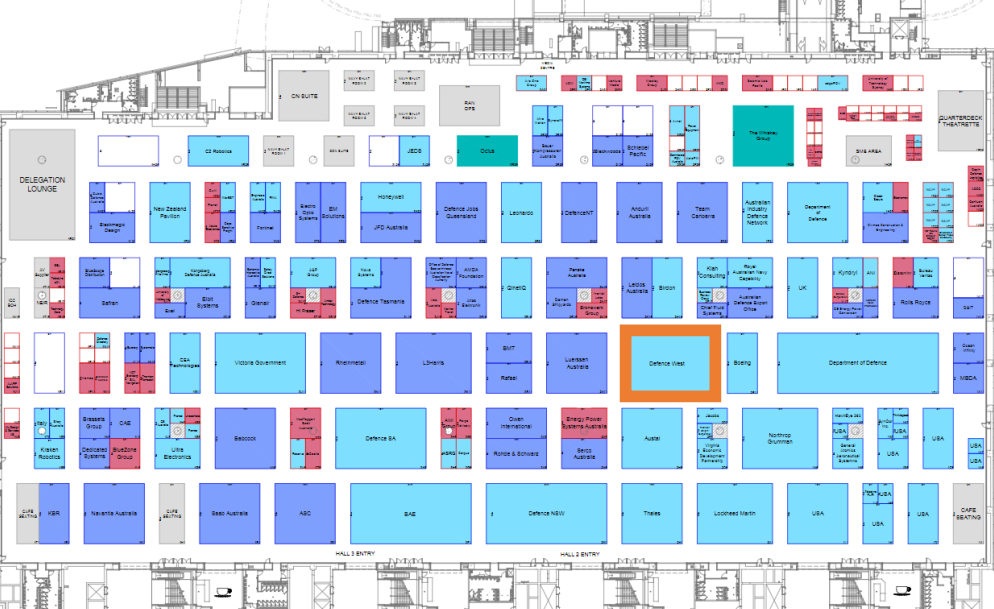 Location of the Defence West expo stand
As Greenroom's second time exhibiting at the Indo Pacific International Maritime Exposition, we very much look forward to showcasing the advancements in our products and technology.
We recognise that the Indo Pacific International Maritime Exposition is a catalyst for innovation and collaboration in our industry. With our attendance, we aim to foster meaningful connections and partnerships that will accelerate the adoption of robotics and automation technology for safer and more efficient maritime operations.
Greenroom Robotics is stoked to present our latest innovations in robotics and automation technology through our Greenroom Platform. The platform is designed to be fully modular, ensuring that our technology suite can be adapted to fit your needs and unique desired outcomes. Whether you're looking to streamline your data processing or turn your fleet autonomous, we can tailor a solution that's the right choice for you.
Our booth, located at 'Stand 2F11,' will serve as a hub for showcasing our technology and engaging with industry professionals, government representatives, and fellow innovators. Get ready to experience firsthand how our Greenroom Platform excels in maritime environments. In combination with our other products, we will be proudly showcasing GAMA, our turnkey solution to maritime autonomy and remote control. Our booth will also feature a hands-on demo of our Remote Command Unit (RCU), showcasing just how easy it is to maneuver and switch between manual and autonomous control of a GAMA-equipped vessel, all whilst remaining on land.
Greenroom Robotics' RCU
Members of our team will be present at our stand to engage in discussions, answer questions, and explore collaboration opportunities. Our CEO, James Keane, as well as our CTO, Harry Hubbert, welcome the opportunity to connect in person to learn how Greenroom Robotics can be your partner in shaping the future of maritime and naval technology.
If you'll be attending Indo Pacific 2023 and would like to secure a timeslot to chat with one of our team, please get in contact with us via our website. We have a limited number of face-to-face slots available, so we encourage those who wish for a meeting to act fast to ensure a slot.
However, if you'd like to get in contact with Greenroom outside of the event, we are always available to answer any questions and discuss RASAI solutions via the contact page on our website.
Follow us on LinkedIn, Twitter/X, Instagram and YouTube for the latest updates.