In this article I am going to talk about a subject that is close to my heart. Maybe as I spent a great deal of my precious time in my final year of university at the Australian Maritime College studying this topic. This topic being "Estimating Sea Surface Temperature (SST) using Unmanned Aerial Vehicles (UAV)".
As you read this I will endeavour to give you a greater understanding into the use of thermal imaging on UAV's and also how similar technology can be applied to a multitude of areas and disciplines, such as remote sensing for environmental monitoring to animal classification and detection. With technology constantly improving the limits of autonomous technology are endless and truly exciting. We at GreenRoom Robotics strive to, and are ready to push the boundaries to develop technology to improve the cost efficiency and ease of doing the tasks that make your business run smoothly. Follow our progress through these blog posts as we design, test and deploy our newest creations.
The thing you might be asking yourself at this point in time is why do we need a UAV to estimate the temperature of oceans, lakes and estuaries. Currently we have a number of ways to do this so why aren't these good enough? The current methods have two main categories and include:
In Situ (Physical)

Bouys
Ocean Gliders
Ships

Remote

Manned Aerial Flights
Satellites
These systems are proven and are very efficient (for remote at least) at covering large areas in a relatively short period of time. Remote satellite systems such as Landsat 8 can survey the entire oceans of the world in around 16 days. This is great on a macro scale, however if precises measurement's for a particular area are required, especially near land, issues arise. As shown in the figure below you are able to visually see the problem, as the measurements are so large, between 60 and 200 meters in size, any pixel of measurement that covers land and sea are discarded due to the difference in emissive properties between the reflective water and the less reflective land forms. Seen in this image the river systems are left data-less as the measurement size is not small enough.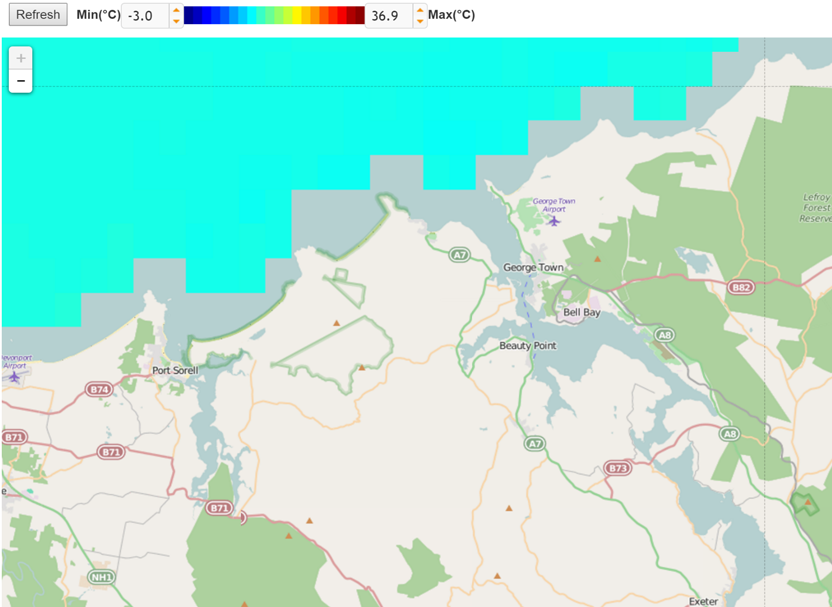 To be able to get precise measurements in these area's other systems can be utilised such as manned aerial flights. This has the capacity to provide high resolution measurements and also has the capacity to cover significant areas, however gaining data in this fashion is expensive and takes a significant amount of planning and ground work.
This is where UAV's can be applied to significantly reduce the cost and increase the ease of gaining measurements for a small area. These systems can be easily deployed at short notice to give very high resolution data of an area. The purpose of the developed system was to give a way to gain measurements for scientific environmental monitoring particularly for looking into the effects of drought on lake and river systems.
The system developed is shown below, it carried a relatively small 80×60 pixel thermal imaging sensor that has the capacity to take an image with a logged location. The UAV has the capacity to operate for up to 50 minutes depending on the mass of the sensor that is being carried. The drone system was built from scratch in every way including the thermal unit. The UAV was made out of carbon fibre for its strength to weight ratio with all of the mounts and fixtures being made out of 3D printed ABS plastic. The thermal camera is placed on an electronically stabilised gimbal to ensure the captured thermal image was taken at an angle parallel to the ground.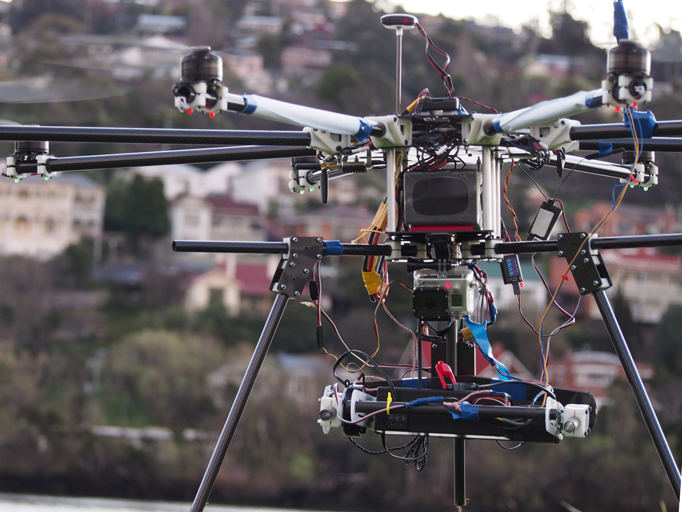 Developing a system from the ground up ensured that the unit could be fully customisable for what ever payload was required. In the case of this project a significantly smaller UAV could have been used however, a large octocopter (eight armed) system was chosen for future needs carrying larger and more expensive equipment such as hyperspecteral cameras.
The thermal imaging system was tested in Launceston, Tasmania for a small section of the Tamar River. This was done at the end of the project to prove the system had the capacity to gain high resolution data for an area. With more time larger areas may be mapped. Below is an excerpt of the data collected and processed. The plots showing both the flight path and the final collected data.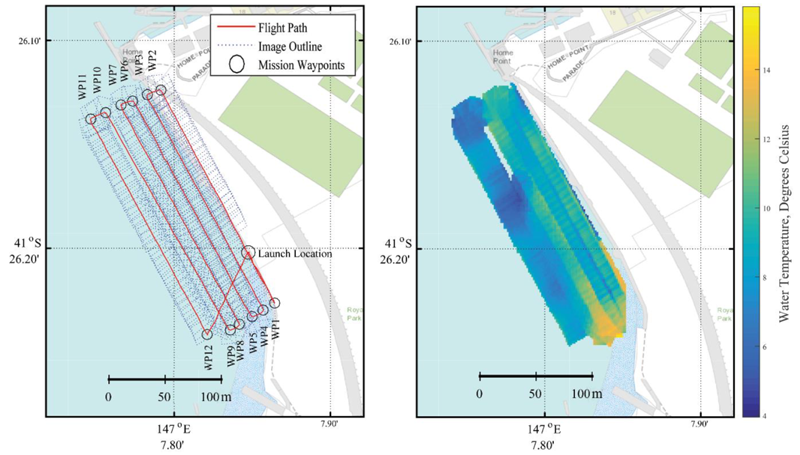 With technology ever improving the limits of using UAV systems such as this are always being raised. Sensors are becoming smaller and processing power is constantly increasing meaning processing can be done in flight and reviewed in real time. This is what GreenRoom is striving to do with its new animal detection and tracking system. Track and plot in real time to a user, providing a truly powerful interface between the system and the user. The lessons learnt from this project are being used heavily in the development of the new system. We cant wait to get a prototype in the air and to show the world what we can achieve! For access to the full version of the thesis visit the following link: Estimating SST Using UAV