Greenroom Robotics continues to make waves in the maritime robotics industry, following our recent participation in the Autonomous Marine Technology Conference (AMT). We are excited to remain at the forefront of maritime robotics by learning about new technologies from industry pioneers and sharing our own contributions to the field.
The AMT, hosted by the Society for Underwater Technology and the Australasian Hydrographic Society, is a globally recognised knowledge centre in the field of autonomous marine technology. It brings together industry leaders, academics, and researchers to discuss the latest advancements and real-world applications in the marine environment.
Throughout the conference, attendees had the privilege to hear from industry leaders about the challenges their businesses have faced and the remarkable successes they have achieved. The innovations displayed provided a holistic view of the evolving maritime technology landscape and presented a unique opportunity to see the vast potential of Australia's sovereign future.
Greenroom Robotics' business & sales associate, James Griffin, took stage as a presenter at the AMT and shared his expertise on the topic of 'Maritime Autonomy for a Sovereign Future and the Future of Uncrewed Surface Vessels (USVs) in Australia'.
James holds a degree in nanotechnology and a post-graduate degree in data science. He applies his love of technology and data analytics to the world of maritime autonomy, where he delivers enhanced capability through the provision of products on the Greenroom Platform to those the maritime industry.
James' presentation covered many crucial topics within the maritime robotics and autonomous systems domain, offering a comprehensive perspective on the current landscape and future potential of these technologies. Topics he discussed included the historical and global context of maritime robotics, their importance in Australia, future applications, regulatory challenges, and the necessity of cross-sector collaboration moving forward.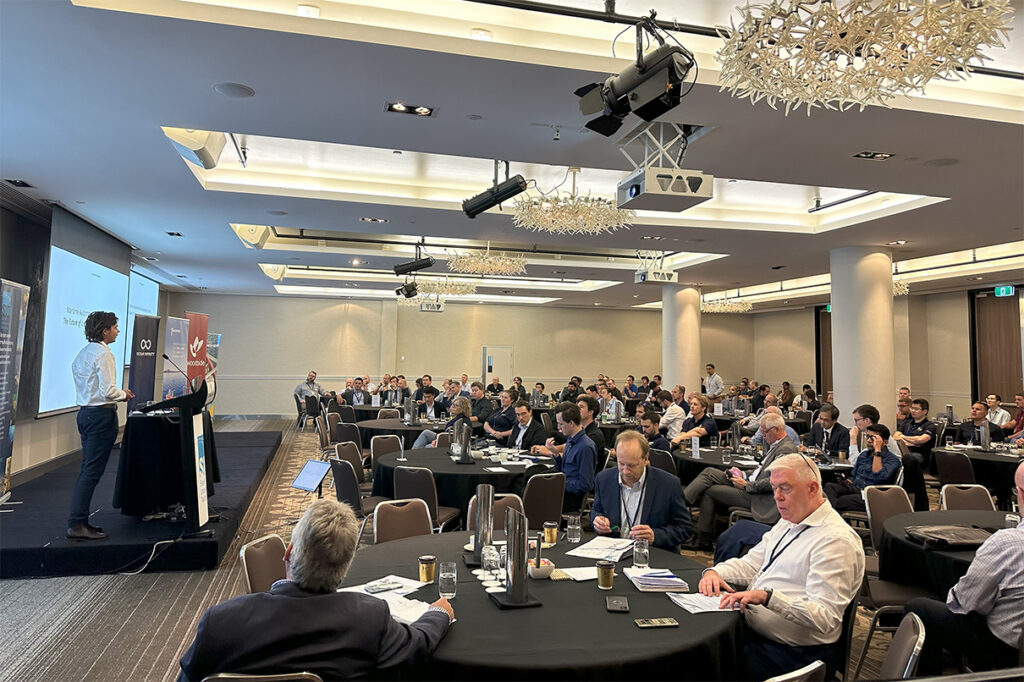 He examined the current global landscape of maritime robotics and autonomous systems, highlighting its significant market value of over US$2 billion, and its decreasing regulatory and technological challenges. He delved into Australia's potential to be a leader within the industry and the importance of these technologies for countries with vast coastlines, limited populations, and strong maritime industries. Furthermore, he touched on the role of robotics in logistics and transportation, whilst also exploring future applications in defence, surveillance, environmental research, and scientific endeavours, including oceanographic data collection and conservation efforts.
The conference discussions resonated with Greenroom's dedication to creating technology that not only pushes the boundaries of innovation but also contributes to a safer, more sustainable, and better-connected world.
Greenroom Robotics recognises that cross-sector collaboration is a vital facilitator for innovation and growth in the field of maritime technology. We invite potential partners and likeminded organisations to reach out to explore how joining forces could shape the future of maritime robotics and autonomy. We firmly believe that by addressing challenges head-on and collaborating with industry peers, we can collectively propel the maritime technology industry into a brighter future.
We look forward to engaging with fellow innovators and industry professionals at future events, including the Indo Pacific International Maritime Exposition in Sydney next week. Come and check out our stand with Defence West, located at 'Stand 2D11', to connect in person and chat about the exciting developments we are leading in the maritime industry.
Stay in touch with us through our social media for the latest news and updates from Greenroom.